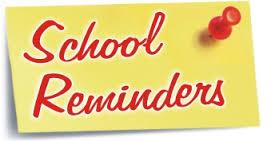 School forms were sent home on Tuesday, September 5th and Wednesday, September 6th. Please check that all contact is correct as well as providing the school we emergency contacts for your child. 
Lunch forms were also sent home. If your child is staying for lunch you need to fill out the forms and return the lunchroom fees to the school as soon as possible. http://www.rbe.sk.ca/parents/lunchroom-registration
We also ask that you send to school fees for agendas.
If you have any questions please contact us through the school email or call the office at 306-791-8466