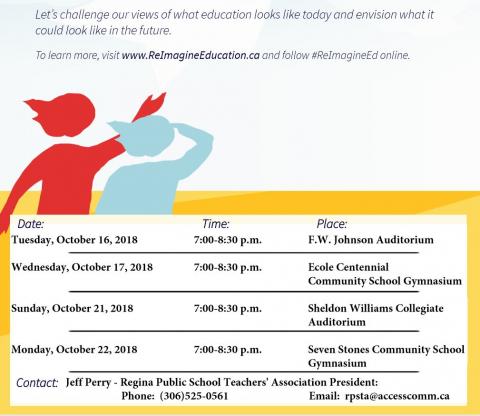 What is Re-Imagine Education?
Re-Imagine Education is a bold initiative asking us to challenge our views of what education looks like today and what it could look like in the future. This initiative will clarify the issues facing education today, imagine what the future might look like and plan how to make the vision a reality.
Education is vital to the future of our province. It affects everything and everyone. The decisions we make about education today will change the way we experience tomorrow. We want to hear from you about building classrooms that meet current and future needs.
Important questions must be answered:
What should public education look like?
What do we want our children to know?
How do we provide our youth with the skills needed for a flourishing life?
What is the role of schools in communities?
How do we encourage children to be critical thinkers, media savvy and enthusiastic citizens?
What role should schools play in promoting creativity, empathy and respect for self and others?
How do we encourage local involvement?
Join a coalition of educational partners as we seek answers to these and other important questions. We want to hear your thoughts, opinions and dreams. Help create a vision for the future.