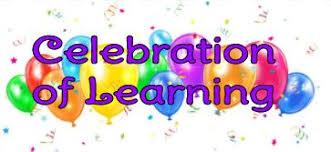 Our Rosemont Celebration of Learning will take place on Friday, March 8.  There will be no school for students that day.  Families with last names beginning with A-K are encouraged to attend in the morning between 8:30 and 11:30 and families with the last name L-Z are encouraged to come in the afternoon between 12:45-3:45.  This will help ensure not everyone comes at once.  A celebration of learning is an opportunity for families to  engage in some of the activities and routines that the students do each day and for the students to 'show off' what they have learned so far this year!  Expect to spend 15-30 minutes in each celebration of learning.
Kindergarten celebration of learning will take place on Friday, March 8 for the A class and Monday, March 11 for the B class.  There will not be school for kindergarten on either of those days.
We are excited to show you all we have learned!