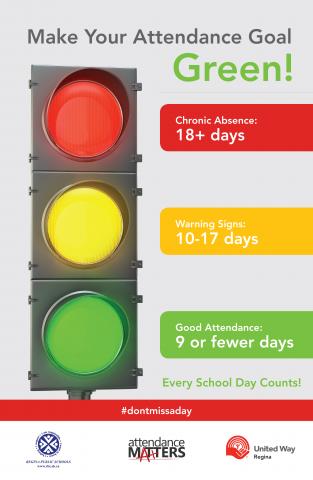 Unfortunately, we had a number of students with extremely poor attendance in January.  We know that less than 91% attendance is considered chronic absence and we had many students less than 75% in January.  For this reason, the SCC has graciously put together a February attendance incentive to target these vulnerable students. Every k-8 student with January attendance below 75% has the opportunity to earn a $20.00 canteen card if their February attendance is 91% or better!  Students who qualify for this incentive will receive attendance letters in the mail! Let's get to school and earn some free lunches!!! Thanks to our SCC! Winners will be notified at the beginning of March.
Did you know?
Missing 10 percent (or about 18 days per year) can make it harder to learn to read.

Students can still fall behind if they miss just a day or two every few weeks.

Being late to school leads to poor attendance.

Being late seriously affects learning, especially if students miss the same class every day.

Absences can affect the whole classroom if the teacher has to slow down learning to help children catch up.

Attending school regularly helps children feel better about school – and themselves.