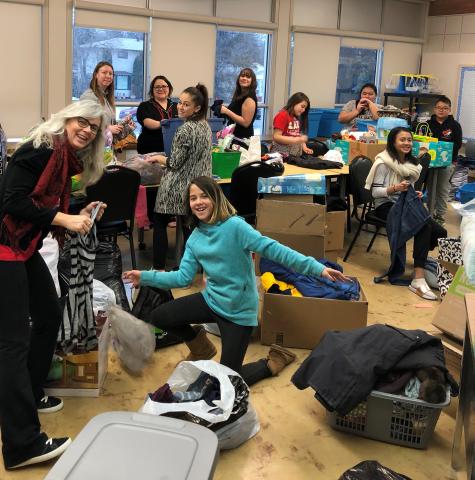 I want to send a shout our to all of the amazing, kind, generous people and organizations who brought clothing, toys, gift cards and money to the school to support the Shepherd/Buffalo family! Words can not express my gratitude! Here are a few of the many generous individuals and groups:
-Rosemont Community School Students, staff and parents who not only donated but organized, sorted and packed the items for the family! (see the photo)
-Rosemont Community School SCC
-Rosemont/ Mout Royal Community Association
-MLA Trent Wotherspoon
-Martin Collegiate and Principal Lisa Allen 
-RCMP
-Arcola Community School
-St. Francis School
-St. Augustine School
-The Elks of Canada
-Waste Management
-Citizens of Regina who took the time to stop by the school with money, gift cards and other items!
in 2 days we collected 45 bins filled with clothes, toys and household items and approximately $4000.00 of cash and gift cards.  What an outstanding show of support!
You are truly wonderful people!  My you have a safe, restful holiday season!  We will see you all on January 7, 2019