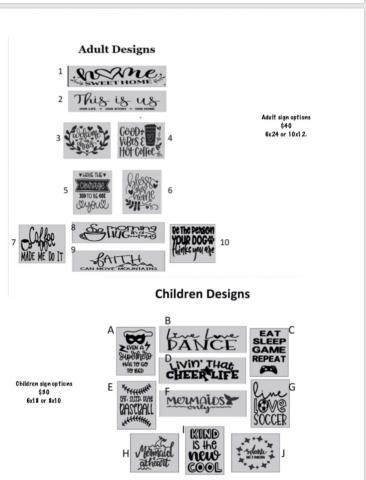 Our SCC invites you to our Design Your Sign Fundraiser event for Rosemont Community School.
This event is suited for all ages, and no experience is necessary. We are offering 20 unique designs for
this special event. $10 from every sign purchase goes directly to our school. Monies raised from any of our fundraisers goes to helping cover the costs of special field trips, program subscriptions, new equipment needed for the school, special event days, and so much more. We hope you can join us for a fun filled evening while you create a beautiful
sign!!!!
          
Event Details:
Where: Rosemont Community School
When: Tuesday, June 4th @ 6pm
Cost: Adult sign options $40
6x24 or 10x12.
Children sign options $30
6x18 or 8x10
Please view the design choices and email owner@designyoursigns.ca with your design preference and payment, by Friday, May 24th.

Please see the SCC Facebook page for more information on this event and to stay up to date on all Rosemont News and Events! Contact us if you have any questions!