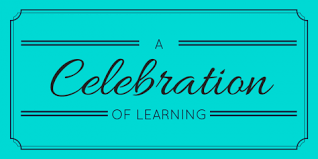 Friday, March 8 is the Celebration of Learning!  Here are a few reminders about the day:
1.  Families with last names beginning A-K are encouraged to come in the morning between the hours of 8:30-11:30 and families with last names beginning L-Z are encouraged to come in the afternoon between 12:45-3:45.
2.  Celebrations will last 15-30 minutes.
3. Rosemont is a SCENT FREE FACILITY please do not wear scented perfumes, lotions or personal products when coming to the school. 
4.  The SCC will be hosting a bake sale with proceeds going to the Z99 Radiothon.  Bring your money for some yummy treats!
5.  There is no school for students but parents and students should come to the celebration together!
6. There is no canteen Friday.
6.  Kindergarten celebration of learning will take place on Friday, March 8 for the A class and Monday, March 11 for the B class.  There will not be school for kindergarten on either of those days.