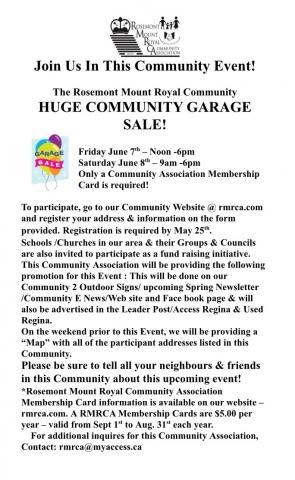 The  next Community Event, that the Rosemont Mount Royal Community Association will be coordinating is our Huge Community Garage Sale in June. 
The next regular monthly Rosemont Mount Royal Community Association Board & Resident's Meeting is on Tuesday May 7th @ 7:00pm at Rosemont Community School in the Conference Room  (use parking lot door) All in our community are welcome to attend!
We are A Program Partner with the City of Regina.  All Board Members on this Association are Volunteers.
Our Website,  is  also a Service that we provide for our residents …. www.rmrca.com  with updated  community information.
Join Our Community Association page on Facebook too!
For further inquiries contact myself or rmrca@myaccess.ca
We just want to make OUR COMMUNITY … An Even Better place to Live!