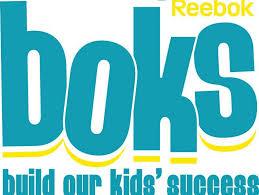 Rosemont community school has started  a new program called Reebok BOKS .  This program takes place Tuesdays and Thursdays from 12:15-12:45 for selected students and replaces the games club on those days.  Mr. McKay, Ms. Franklin and Ms. Perreault.have been trained to facilitate the program. If the program is successful with our current BOKS/games club students, we may look at expanding it in the future.
On Tuesday, March 20, Derek Pang, regional co-ordinator for BOKS, will be facilitating a session for our BOKS/Games club students from 12:15-12:45.  He will be bringing with him a special guest from the Saskatchewan Roughriders.  All BOKS club members will be receiving a release form Mr. McKay that must be signed in order for them to be a part of the special session March 20!
On March 22, Derek Pang will be returning to Rosemont and he will be visiting some of our primary classrooms to introduce BOKS burst; a body break designed for classroom teachers to do with their students in their classroom.  Again, teachers who have students participating in BOKS burst will be sending a release form home for parents to sign.  It is critical that these forms are signed and returned to school so that the students can participate in this amazing opportunity!
If your child does not bring the form home, you can access it here:
Form for Tuesday, March 20: https://drive.google.com/file/d/1QvJhaeto0LjUjF0f-WA2HUO6QvfA-6Nm/view?usp=sharing
Form for Thursday, March 22: https://drive.google.com/file/d/1hzsgLtG1ItxNcyOIha0fQdUOovshowjv/view?usp=sharing