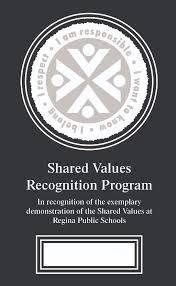 We are encouraging Regina Public Schools staff, parents/caregivers, students and community members to recognize and honour those who make a difference in our schools and offices by exemplifying the Shared Values and making significant contributions through their work. As part of this program, up to 10 Regina Public Schools employees will be honoured at a ceremony held in September 2019.
For more information, please CLICK HERE.
Deadline for entry is May 3, 2019.
Cathy Wall, Communications Regina Public Schools