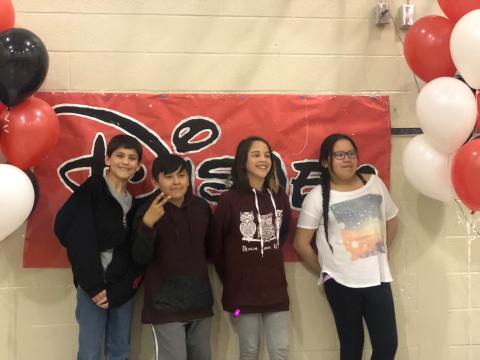 Friday, March 21 was Disney Day at Rosemont Community School.  The day included many fun activities including dressing as your favourite Disney character and an assembly with 'minute to win it' games and acknowledging four special students who displayed kindness.  The students noticed a few unusual things about this assembly; there were many special guests, there were more community members, parents and grandparents than usual and there was even news media!
 The assembly took an unexpected turn when Mrs. Neiszner and the school community council did not have prizes for the four winners of the kindness awards like they normally do. Luckily, the students were able to summon a fairy godmother with the help of the magic words "bibbidi, bobbidi boo." The fairy godmother waved her magic wand and that is when the four students learned that they had been selected for "Dreams Take Flight" a one-day whirlwind trip to Wald Disney World!  There were balloons and confetti and four extremely grateful and humble winners.
The four Rosemont students will travel to Winnipeg on April 9.  On April 10, they will board a private Air Canada plane destined for Orlando.  They will go directly from the plane to the Magic Kingdom. Their trip includes clothing, unlimited fast pass rides, food and even souvenirs! At the end of the day, they will fly back to Winnipeg and spend one night in a hotel before returning to Regina April 11.
These four wonderful students learned that being kind and generous definitely pays off!