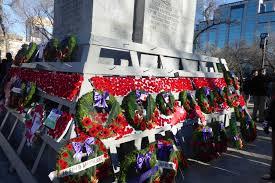 Our Remembrance Day ceremony will take place on Friday, November 9 at 9:15 a.m. in the gymnasium.  Families are welcome to attend to honour and remember those who served and continue to serve to protect our freedom and to keep peace in other countries around the world. 
There are several events in Regina on Sunday, November 11. The Brandt Centre will open its doors at 9:00 a.m. and their service will begin at 10:30 a.m. and there will be a parade that follows.  The Royal Canadian Legion will lead a parade from the branch to the cenotaph for an outdoor service at 10:15 a.m. with the service beginning at 10:30 a.m.  The public is also welcome to tour the Legion buildings museum starting at noon.
There will be no school on Monday, November 12 in honour of Remembrance Day.
Lest We Forget.