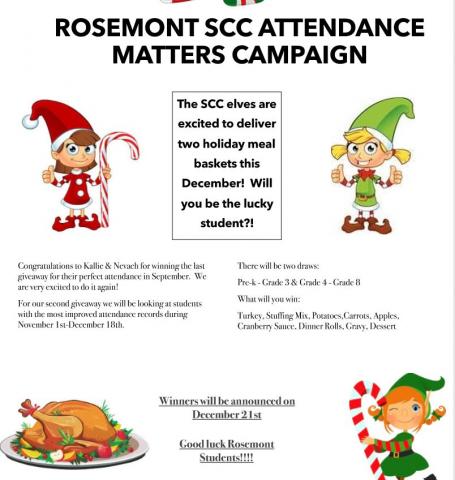 Our October attendance was 92% at Rosemont Community School.  Our goal is 96%. Our SCC is offering another wonderful family attendance incentive!  See the poster for more details.  This time the focus is improved attendance.  This incentive includes November and December attendance!
Did you know?
Missing 10 percent (or about 18 days per year) can make it harder to learn to read.

Students can still fall behind if they miss just a day or two every few weeks.

Being late to school leads to poor attendance.

Being late seriously affects learning, especially if students miss the same class every day.

Absences can affect the whole classroom if the teacher has to slow down learning to help children catch up.

Attending school regularly helps children feel better about school – and themselves.