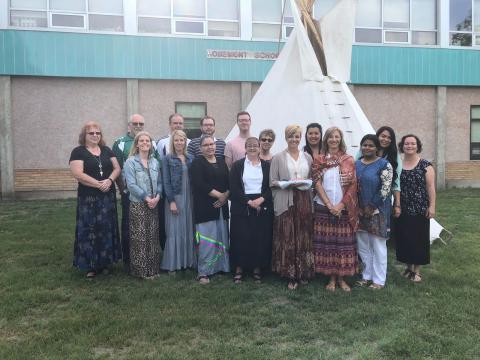 Thursday, June 21 is National Indigenous Peoples Day
7:45 a.m.
Pipe ceremony in the tipi on the front lawn for staff and adult community members.  Women please wear a long skirt and men, please wear long pants.
10:45 a.m.
Flag raising ceremony on the front lawn

Welcome:  Mrs. Neiszner
Blessing of the Flag:  Kookum Val Ironchild
Drumming and singing the flag up:  Martin Collegiate and Rosemont Drummers and singers.
P.M.
Each class will have the opportunity to spend time in the tipi and learn about the tipi.
***We had originally planned an evening event but, due to some of our presenters and Elders having to cancel due to some significant events and celebrations in and around the city, the event will be rescheduled for September***